František Krátký – Russia 1896
29. 10. 2019 – 30. 6. 2020
Curator: Pavel Scheufler
On the 28th of April 1896, the Bureau of the Royal Town of Kolín issued the "academic painter and photographer F. Krátký" a certificate of his well-being and confirmed that he "travels abroad for that purpose only, that he would make stereoscopic photographs". A parallel translation in the Russian language suggests that the purpose was a confirmation to the Russian authorities before his planned journey to Russia. Photographer Kr.tký thus ranked among the crowd of Czechs who in the "Slavic country" in the east sought knowledge, inspiration in creation, or even political support for their goals. The ideas of Panslavism played a logical role in the formation of Czech society in the area of Central Europe with the linguistic influence of the German language; the Czech russophiles saw a strong state in Russia, which could help the Slavic nations gain their freedom. Many of those who had first-hand experience of Russian reality and described it in their travelogues sobered up, the admiration of others remained untouched. Krátký carefully prepared for the journey, he even bought a new stereo-device from the Vienna company J. Wanaus Wien in 9 x 18 cm format. In addition to stereo-images, he also photographed in 13 x 18 cm format in Russia.
Among Czech photographers of the Austro-Hungarian era, František Krátký with his images from Russia was not the only one, but in terms of material photographic legacy, Krátký's legacy is by several hundreds of photographs the largest in range. With their photo-cameras in Tsarist Russia, Josef Pírka, E. S. Vráz and Alfons Mucha were among the best known Czech personalities that could have been seen; lesser known are the images by Alfons Mucha, Vráz and the ethnographer Karel Chotek.
The obligatory beauty of monuments is not dominant in Krátký's images, but rather interesting things in various types of people. Although he also photographed poverty, his overall picture of Russia was very positive. He entered the history of world photography with his unique pictures of trampled people in the Khodynka Field in Moscow during festivities that took place after the coronation of the last Emperor of Russia, Nicholas II. Besides the coronation of the Tsar and ceremonial decorations on this occasion, he extensively photographed the agricultural exhibition in Novgorod. He also captured the sights and life of Moscow, St. Petersburg and other cities. He transformed selected images from his journey into a stereo-diapositive and colourized them. He copied and distributed some of them as stereo-photographs  in photographic or print quality. Some colourized stereodiapositives look almost fascinating. These photographs cannot deny that Krátký originally sought to be a painter.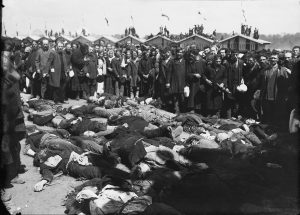 Moscow, Trampled at the coronation folk festival on the Chodinska Park, May 30, 1896